As the valedictorian of block D14 in the 2020 high school graduation exam with 9.75 points in Literature, male student Vo Lap Phuc is controversial when he publishes an analysis of "Waves" by author Xuan Quynh.

Recently, netizens stirred up with an essay on the high school graduation exam 2021 of the national valedictorian of block D14 in 2020 Vo Lap Phuc. Phuc is currently a student at the Faculty of History, Ho Chi Minh City University of Education. Before that, a male student from An Giang emerged with a "top of the top" university exam score of 29.1, of which History and Literature both scored 9.75, and English was 9.6.
Currently, Lap Phuc is a student at Faculty of History, University of Education, Ho Chi Minh City. Photo: FBNV.
Although the exam has been held since 2020, Phuc has tried to do a literary essay (5 points) in this year's literature exam. At the request of the topic, candidates will present their feelings about 3 poems excerpted in the work of Waves, thereby commenting on the feminine beauty in Xuan Quynh's poetry.
Right from the opening, Phuc has "introduced" with knowledge related to philosophy. Photo: FBNV.
Excerpt from an analysis of the "fundamentals" of concise words in Lap Phuc's work. Photo: FBNV.
Immediately after the article was published, most netizens expressed their admiration for their extensive knowledge, unique way of reasoning and especially the "scientific" language, which many people commented as "rich in philosophy". learn". From the first lines, Lap Phuc raised the question from a philosophical perspective: "The foundation is a concept that is both material and micro-material at the same time…"
However, below the comment section, there are many controversial opinions about this male student's analysis. Most of them are the opinions that the male student's essay is full of concise words but lacks emotion, making the reader feel suffocated instead of "feeling" the work.
The account with the abbreviation HTP commented: "Perhaps ordinary people should not perceive this as a good article. There is no personal tone, too much abuse of pompous writing, showing off words, making the article fall into a long narrative without highlighting the softness-femininity in Xuan Quynh's poetry. However, I also analyze quite meaningfully, have a wide vocabulary. But an essay like this modeled on a high-scoring essay would be quite dangerous.
First of all, a good essay must be an essay that is sufficient, meaningful, touching enough, and has its own tone. Enough: It's not quite enough, but thanks to the words "big knife" filled in; own voice: None; Smoothness: None. To put it bluntly, this is a cliché that any good student of Literature should avoid."
The last two pages of An Giang's male student's homework. Photo: FBNV.
The Spanish account said: "In terms of content, Lap Phuc's work is still a bit "different" compared to the Song poem itself. Because, Xuan Quynh's poetry inherently impresses readers with its innocent and intuitive voice; passionate desire for love. Therefore, the application of philosophical knowledge and scholarly language to the analysis partly makes the poem dry, losing its original emotion."
Sharing with HHTO, Ms. PTTN (a Literature teacher working at a high school in Ho Chi Minh City) expressed that Lap Phuc's analysis is longer than 10 pages, partly because of the content, partly because of the content. Sentences are too elaborate, it feels like they are "charming the sentences without ignoring the meaning".
In addition to comments expressing personal views, on many forums, many netizens criticized and dissected the article with heavy, negative words. As can be seen, this is just a personal work, made by Lap Phuc and posted for the purpose of providing an additional source of reference.
Many comments said that netizens should give gentle comments to "the owner". Screenshots.
Therefore, many people quickly released the siege, and at the same time gave encouragement and encouragement to the literary passion of An Giang male students, notably the opinion: "Each person has his own growing up journey. in the world of words, of creation and of art. Phuc's use of sublime philosophical concepts or theoretical scholarly writing is not worthy of criticism and ridicule as if it were an "abomination", something peculiar.
Congratulations for your age because at that age you have a passion for words, and you know how to turn your analysis into a unique, personal analysis, while many other people at that age have to wait another 5-6 years to define and "write" their identity… Nurture, not kill, a potential future writer. just because you write the right words for who you are."
Going back to Lap Phuc's work, it can be seen that, with the topic of presenting "your feelings about the above poem", the candidate for the 2020 exam season has partly met the requirements of the topic, when giving his feelings. own when reading Xuan Quynh's poetry.
However, because he is about to become a second-year student of Ho Chi Minh City University of Education, his literary experience is also more extensive than that of high school students, so even from the perspective of thinking and thinking, especially the way The application of philosophy to his writing is also different. Besides, because he is not under time pressure, so he can freely "dance the pen", making the essay reach 10 pages of paper.
Source: https://hoahoctro.tienphong.vn/tranh-cai-bai-phan-tich-song-day-triet-hoc-cua-thu-khoa-nam-2020-…Source: https://hoahoctro .tienphong.vn/tranh-cai-bai-phan-tich-song-day-triet-hoc-cua-thu-khoa-nam-2020-sau-sac-hay-sao-rong-post1358610.tpo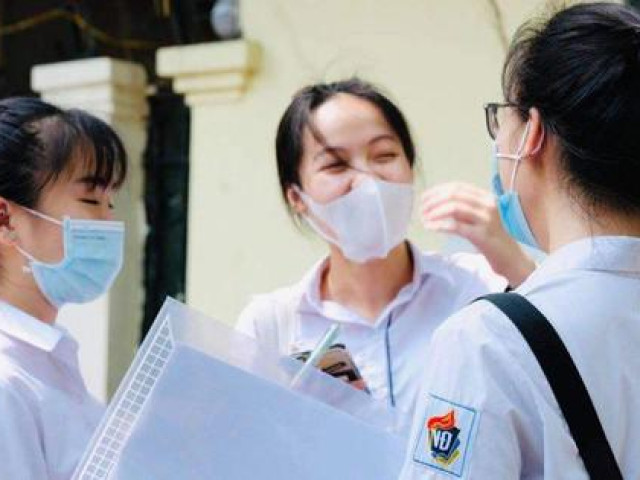 On July 20, according to Tien Phong's source, Hanoi appeared an exam with 9.75 points in Literature for the high school graduation exam…
According to DANDELION (Flower of the pupil)